Identification of pesticide residues in infant food
James Morphet Peter Hancock

Waters Corporation, Manchester, UK
aims
Combine the power of the Waters Ultra High Performance Liquid Chromatography ( UPLC ® ) system with the fast acquisition speed of the XevoTM TQ mass spectrometer for rapid identification of pesticide residues in infant foods.
Introduction
As the world's population increases, it becomes increasingly important to meet the growing food needs of residents. The increase in consumer demand has led farmers to use more pesticides to increase production and make their production operations more efficient. The increase in the use of pesticides and illegal use, coupled with the backward agricultural level, make pesticides and their metabolites remain in food, seriously endangering human health.
Many countries have strict pesticide use regulations, and the legislature regulates the maximum residue levels of pesticides (MRLs) in foods, requiring sensitive, selective, and reliable analytical techniques for analysis. The EU Infant and Child Food Regulations (2003/13/EC 2) contain a range of GC and LC detectable pesticides. The maximum level of such banned pesticides in infant foods must not exceed 0.003 mg/kg, or must not exceed 0.004 - 0.008 mg. /kg limit. The specification is considered to be the most stringent of the current regulations.
In order to meet the detection limit requirements, it is necessary to develop a universal sample preparation technology for complex substrates, and to increase sample throughput, which is a challenge for food safety testing laboratories today. The use of a multi-residue detection method with a single instrument eliminates the need to change method parameters, significantly increasing the return on investment in the laboratory. For laboratories, it is often necessary to analyze a large number of pesticide residues required by different regulations.

This application note describes a solution for the rapid analysis of pesticide residues in fruit and meat infant foods, which exceeds current EU and international regulations.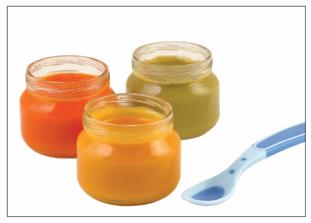 test
This multi-residue assay uses the DisQuETM (QuEChERS-like Dispersive Solid Phase Extraction) extraction method as follows:
Extraction steps: 3
1. Add 15g of baby food homogenate to the 50 mL DisQuE extraction tube and add 15 mL of 1% acetic acid/acetonitrile.
2. Shake well for 1 minute and centrifuge for > 1 1500 rcf.
3. Pipette 1 mL of the above acetonitrile extract into a 2 mL DisQuE purge tube
4. Shake for 30 seconds, > 1500 rcf for 1 minute.
5. Pipette 100 μL of the final extract into the vial, mix by adding 900 μL of water, and mix.
LC parameter condition
LC system:

ACQUITY UPLC ® System

Column:

ACQUITY UPLC BEH C 18 column, 2.1 x 50 mm, 1.7 μm

Column temperature:

40 ÌŠC

Sample chamber temperature:

4 ÌŠC

Flow rate:

0.7 mL/min

Mobile phase A:

Water + 0.1% formic acid

Mobile phase B:

Methanol + 0.1% formic acid

gradient:

0.00 minutes

99% A

5.00 minutes

1% A

6.00 minutes

1% A

6.10 minutes

99% A

8.00 minutes

99% A

Weak wash solution:

Water + 0.1% formic acid

Strong wash solution:

Methanol + 0.1% formic acid

Total running time:

8 minutes

Injection volume:

50 μL, full loop injection
MS parameter condition
MS system:

Xevo TQ MS

Ionization mode:

ESI +

Capillary voltage:

0.6 kV

Desolvent gas:

Nitrogen, 1000 L / Hr, 400 ÌŠC

Cone gas:

Nitrogen, 25 L /Hr

Source temperature:

120 ÌŠC

sampling:

Multiple Reaction Monitoring (MRM)

Collision gas:

Argon: 3.5 x 10 -3 mBar

For detailed MS parameters, please refer to Appendix 1 at the end of this document.
Quanpedia : Database and Method Creation Tools
The method creates an integration with the use of QuanpediaTM, which can be searched with quantitative LC/MS method information and updated based on user information.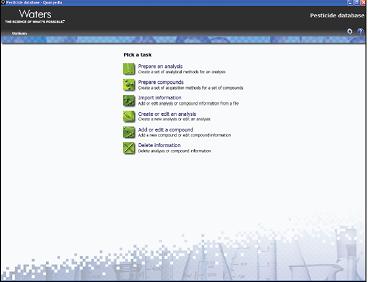 Figure 1: Quanpedia is an easy way to create tools and MS databases.
Information about Quanstro's data entry includes compound name, optimal SIR/MRM acquisition method parameters, acceptable confirmation ion ratio, appropriate LC method, and expected peak retention time. For the first time in a fast, multi-user environment that requires high quality results, Quanpedia provides an easy way to quickly create complete LC/MS data and acquisition methods.
Acquisition and processing method
The above data was collected by Waters MassLynxTM version 4.1 software. Integrated into MassLynx, IntelliStartTM software automatically optimizes MS parameters for samples while monitoring the health of MS systems, reducing troubleshooting and maintenance time for high-intensity operations.
Results and discussion
Analytical methods for pesticide residues in infant foods using the ACQUITY UPLC System with the Xevo TQ MS System: Ultra Performance Liquid Chromatography Tandem Tandem Mass Spectrometry (UTS/MS/MS) operating in MRM mode, which provides efficient selection of quadrupole mass spectrometry Sexual detection technology is the best choice for the laboratory's technology. 4
The selectivity provided by tandem quadrupole mass spectrometry (Xevo TQ MS system) is more advantageous than single quadrupole mass spectrometry, enabling more reliable characterization and quantification of co-elute. Figure 2 shows the co-elution of fosorphos and tert-butyl at 3.32 minutes. All residence times were optimized to give approximately 12 data points per peak.
The above data is processed through the TargetLynxTM Application Management Program, which automatically processes and reports quantitative data and includes sample validation checks within a certain range of user-defined limits or regulatory limits.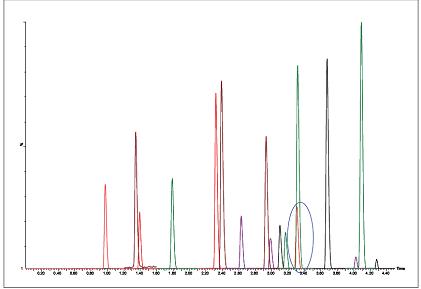 Figure 2: Chromatogram of 17 pesticide residues obtained by one injection of 1ng/mL aqueous solution
QCMonitor : Implementing Quality Control Automation
QCMonitorTM automates real-time quantitative data quality monitoring to determine if the injection meets user-specified tolerances. QCMonitor automatically determines whether to continue the injection or if more detailed inspections are required to ensure that high-value laboratory resources are fully utilized. If the calibration curve, QC, or blank sample does not reach the allowable error range value, the sample can be re-injected. If a worse condition occurs, the batch can be ignored and skip to other batches to continue the injection. This is especially important for overnight injections (the instrument is unattended). Its email sending function sends an email in the event of a discrepancy and alerts the chemical operator in a timely manner.
High-sensitivity full-scan data can be obtained while performing MRM, making it easier to diagnose whether co-extracted interferences are the source of QCMonitor error reporting, which expands the space for LC/MS/MS analysis. The QCMonitor is included in the TargetLynx Software Method Editor, as shown in Figure 3.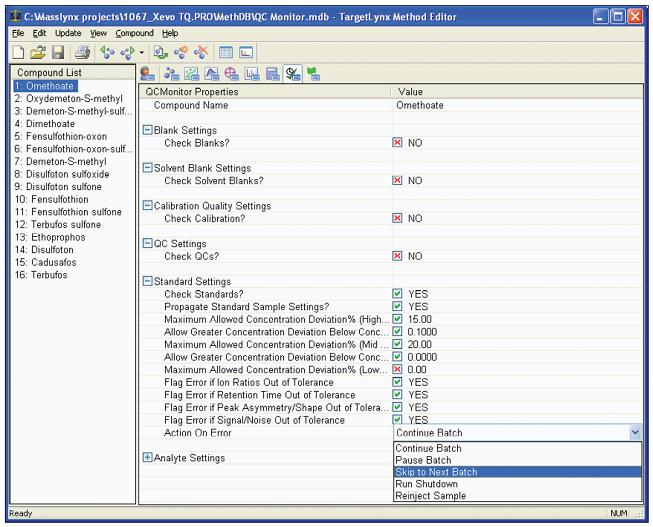 Figure 3: Detailed parameters including QCMonitor can be modified by the TargetLynx software method editor. The important parameters are: standard calibration settings, allowable error values, and actions that can be taken after the injection fails to meet the set criteria.
The calibration curve was obtained by injection of different concentration standards, and a good linear relationship was obtained by the weight parameter of 1/x. See Figure 4 for details.
With TargetLynx as the standard, the quantification process is simpler than ever, and the data browser and report generator clearly indicate that sample retention is above the minimum reported level.
The advantage of using the ACQUITY UPLC System with the Xevo TQ MS system is that ion ratio confirmation is possible. Figures 4 and 5 show the ion ratio of sulfonate sulfone that does not meet the standard requirements. Users can easily operate the TargetLynx Software Method Editor to set the range of ion ratios for each compound. The red/white box shows whether the injection reaches the allowable value. The injection concentration shown in Figure 5 is 0.7 ng/mL (sample concentration 0.007 mg/kg), but the qualitative and quantitative MRM channel ion ratio is not set by the analyst. Within the error range. The EU's ion ratio confirmation regulatory requirements are important for pesticide residue analysis (see document SANCO/2007/3131. 5). Place your mouse over the red box to display a detailed description of the problem. As shown, the actual ion ratio is not within the limits set by the analyst. This feature automates calculations, making the analyst's lab work process more productive and streamlined.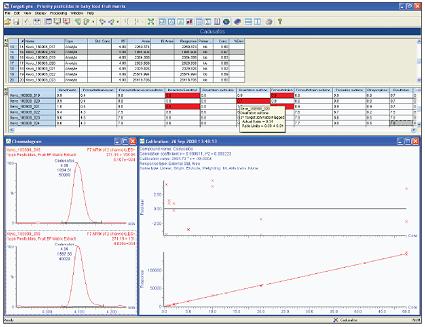 Figure 4. The TargetLynx software browser shows 0.001 mg/kg of sulphur phosphorus in processed fruit baby food extracts . The red box is marked as an ion ratio outside the acceptable limits.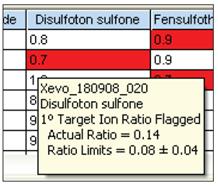 Figure 5: Magnified display of user information, TargetLynx software's mark over-limit ion ratio results.
TrendPlot : Monitoring system long-term health
The TrendPlotTM tool provides high quality, consistent results data from the validation laboratory Xevo TQ MS system. In the daily analysis operation, the trend analysis can be made by analyzing the trend between the short-term batch and the long-term batch of a specific sample. For example, the trend graph of the lead-phosphonus sample can easily find the over-limit data, as shown in Figure 6.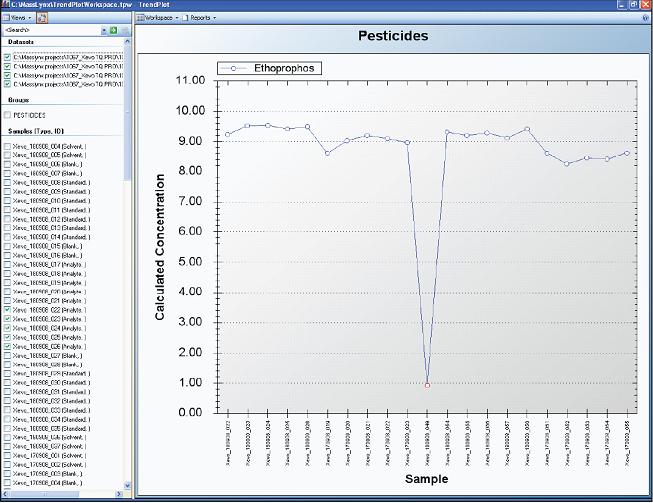 Figure 6: The TrendPlot tool shows overrun data in batch or multi-batch overlays
in conclusion
We have developed a rapid multi-residue assay for LC detection and validation that analyzes the detection limits for pesticide residues in processed fruit and meat infant foods that are superior to international regulations.
Combined with powerful UPLC and fast MS data acquisition technology to further increase efficiency and increase sample throughput, the advantages of combining ACQUITY UPLC with Xevo TQ MS (see Figure 7):
â–  Improve chromatographic resolution and shorten analysis time.
â–  Combined with MRM confirmation.
â–  Follow regulatory requirements (such as SANCO).
â–  IntelliStart technology reduces the burden of complex operations, training new users, and time-consuming troubleshooting and maintenance.
â–  ACQUITY UPLC in combination with the Xevo TQ MS system delivers the highest performance in any lab.
â–  Automated system setup and quality control system streamline entry operations.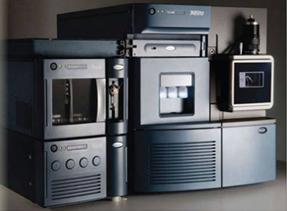 Figure 7 ACQUITY UPLC/ Xevo TQ MS .
The advantage of the Waters UPLC/MS/MS solution for profitable laboratories is its high efficiency, saving analysis time, reducing sample retesting requirements and increasing laboratory productivity. It can also save costs by reducing laboratory consumables and solvent consumption, and support environmental protection.
The UPLC/MS/MS method for analyzing large amounts of pesticide residues in actual food samples has high sensitivity, which is ideal for rapid pesticide analysis methods for a wide range of food samples.
references
1. Commission of the European Communities EC 396/2005, OJ 2005; L70: 1.
2. Commission of the European Communities EC 2003/13, L41 : 33-36.
3. DisQuE Dispersive Sample Kit Care and Use Manual, P/N 715001888.
4. Leandro CC, Hancock P, Fussell RJ, Keely BJ. J. Chrom A. 2007; 1144: 161.
5. Method Validation and Quality Control Procedures for Pesticide Residues in Food and Feed. Document No SANCO/2007/3131.
Appendix 1 : Xevo TQ MS Parameters
pesticide

RT

MRM migration

Retention time ( s )

Cone voltage ( V )

Collision energy ( eV )

Omethoate

0.97

214>183
214>155

0.08

16

12
15

S-methylmethyloxo-inhaled phosphorus

1.35

247>169
247>109

0.04

18

14
28

S-methyl sulfone

1.39

263>169
263>121

0.04

20

16
16

Dimethoate

1.79

230>125
230>171

0.10

12

20
14

Oxygen

2.32

293>237
293>265

0.04

twenty two

18
13

Oxygenated sulfone

2.39

309>253
309>175

0.04

19

15
25

S-methylmethyloxo-inhaled phosphorus

2.63

231>89
231>61

0.10

12

12
twenty two

Ethylene sulfoxide

2.93

291>185
291>97

0.04

15

13
32

Ethylene sulfoxide

2.98

307>97
307>115

0.02

16

28
twenty three

Fonsophos

3.10

309>281
309>157

0.02

25

14
twenty four

Fonsophosphonate

3.17

325>269
325>297

0.02

19

15
11

Tetraphosphonate

3.30

321>171
321>115

0.03

19

11
28

Tetraphosphonate

3.32

305>187
305>131

0.03

10

11
27

Proline phosphorus

3.68

243>131
243>173

0.10

18

19
14

Acetate

4.03

275>89
275>61

0.08

14

10
32

Sulfur phosphorus

4.09

271>159
271>131

0.02

16

14
twenty two

Tebutin

4.28

289>103
289>233

0.06

12

9
5
Spice Novelties Co.,Limited , https://www.wholesale-adult-toys.cn